Tour of the Calf of Man
Mon, 06 Dec 2021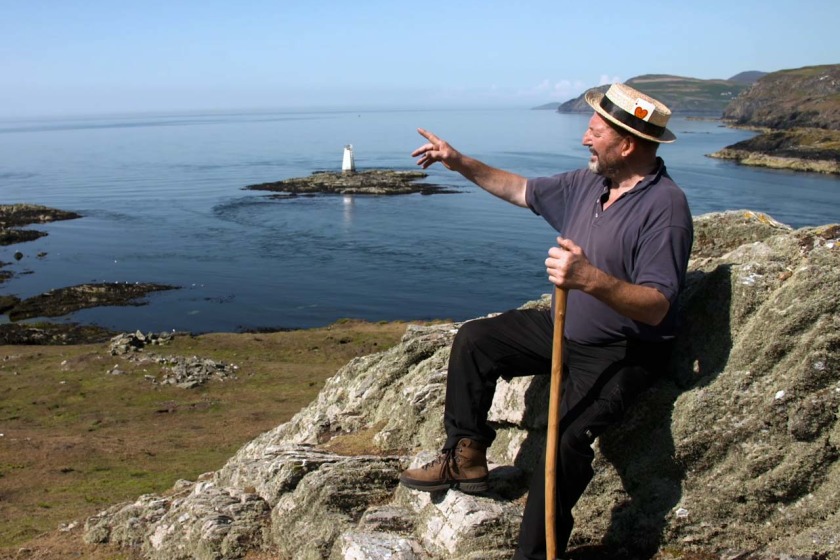 A series of 49 short films about some of the hidden places and history of the Calf of Man have just been released online.
Presented by David Fisher, a Blue Badge Guide with years of experience of working on the Calf, and produced by Culture Vannin, the films range between well-known stories of shipwrecks and rescues through to fascinating secrets hidden in walls or the corner of a farm yard.
Ruth Keggin Gell, Manx Language Development Officer at Culture Vannin says:
"So many people have a fascination with the Calf of Man, which means it is wonderful to be able to share some of its wonderful stories, thanks to David's generosity."
The series of films began in 2018, when the first 19 films were released, exploring the south side of the Island, including the lighthouses and the famous story of a helicopter being sent to the Calf to help with a birth when they saw 'baby' written on the outside of the lighthouse.
On a perfect day this summer a further 30 films were captured between the 1878 farmhouse and northern shore. They feature stories of shipwrecks such as the Brig Lily and Clan MacMaster, the curious tale of the Italian graffiti at the barn, and the ingenious reuse of shipwrecked sewing machines in a place rarely noted by visitors.
Ruth Keggin Gell says:
"David is not only enormously knowledgeable about the Calf, but he is undoubtedly one of the Island's great story-tellers. These films bring the Calf to life and add an enormous depth and interest for anyone who watches them."
The films are divided between English and Manx versions, with David Fisher having recorded each story in both languages.
The Manx language versions of the films were launched at the recent Cooish festival celebrating the Manx language and its communities. They can be found on learnmanx.com. The 24 English versions have just now been released on the Culture Vannin website and YouTube channel.
The Manx language is one of the Island's most important cultural assets; it is an Island success story and something in which we can all take great pride. The language has seen an upsurge of interest in recent years, and Manx is spoken not only on the Isle of Man, but around the world. Films like these make the language even more accessible.
The films were created by Culture Vannin as part of a continued commitment to supporting, promoting and celebrating Manx culture, through our Island's unique landscape, history, stories and more.
Culture Vannin is the trading name for the Manx Heritage Foundation, registered charity 333 in the Isle of Man.
The films are available for free online on the Culture Vannin website and LearnManx website, as well as on YouTube.
---