Manx Folk Awards success
Tue, 29 Mar 2022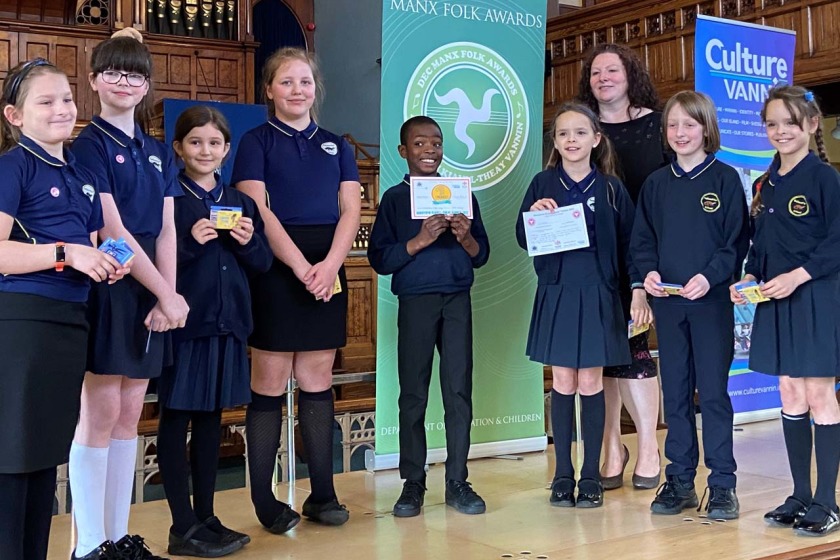 The Manx Folk Awards took place at the end of March and proved an enormous success.
It was the return of the friendly competitions in Manx music, song, dance, language and more, after a two year break due to Covid.
Some of the key facts of the five days include the following:
Almost 1,000 entrants
5 days
92 classes
4 venues
8 choirs
14 new compositions
209 dancers
441 singers
25 schools & organisations
64 Manx readings
9 adjudicators
The feedback has been amazing from ajudicators, teachers, organisers, parents and more. A small selection of some of the things said is as follows:
"I think it's my favourite festival ever. I feel like they celebrate everyone's efforts and everyone is genuinely delighted for each other. It's such a nice week."
"Another gorgeous morning with the Key Stage 2 folk award entrants. The folk awards are just such a great event providing such a lovely and warm environment for these young people to perform in! Well done to Chloe, Jo and all those organising, and to the brilliant performers – such mature and skilled performances from every single person I was lucky enough to see and hear both yesterday and today."
"Thank you for today, the kids loved it and asked if they could do it all over again."
"I've been working all week but I managed to catch the last 30 second of her last class. Which felt magical.
My favourite part is, she didn't win her harp class. But she felt inspired. And came home and spent an hour learning the tune the other harpists played. I love how this friendly and supportive festival inspires."
"I'm so proud of them for giving it their all. And immeasurably grateful to everyone who helped make it happen."
"Really enjoyed today… lovely atmosphere… such talented kids… Manx music and dance in a very healthy state."
"The best bit is watching others, seeing the same song/dance/piece of music performed in a different way, meeting up with friends from other schools, seeing that it's ok to make mistakes/ start again and all whilst celebrating our culture in a relaxed and supportive way.
I love the MFA!"
"Thank you for a magical and inspiring day! So happy to see the kids performing like this again!"
"Thank you so much for organising the folk awards! It's such an amazingly positive and supportive experience for all the children!"
"All the children involved have been so encouraged and inspired over the last 5 days – obbyr niartal!"
Special mention was made for the Malcolm Scott Dickinson Charitable Trust Folktastic Winners:
Sun 20 March: Fraser McKenna
Mon 21 March: Skeddan Jiarg
Tues 22 March: Bunscoill Ghaelgagh
Wed 23 March: Ballacottier School
There was also a new special prize introduced this year, thanks to the Manx Folk Dance Society. To celebrate the MFDS's 70th Anniversary a new award was created for the best solo dancer in key stage 2. Manx dance adjudicator Rachel Clarkson, has been a member of the MFDS for a number of years and was instrumental in arranging the new award. This year's winner was Cara Rowles who performed the particularly difficult solo dance 'Sharon's Jig'. Rachel said she was thrilled with the standard of dancing and is pleased it will continue to be recognised over the coming years with this new award.
The Manx Folk Awards is organised annually by Culture Vannin and the Department of Education, Sport and Culture, Isle of Man Government. It is additionally supported by Kenginston Arts, Trinity Methodist Church, St. John's Methodist Hall, the Malcolm Scott Dickenson Charitable Trust, and a band of dedicated volunteers - gura mie mooar eu!
A PDF version of this review is available to download here.
More about the Manx Folk Awards is available here.
Images from the Manx Folk Awards are available here.
Videos of the performances are available as follows: KS1, KS2 song & dance, KS2 instrumental, Secondary & Recitation.
---