Unique insight into Manx tholtans
Wed, 08 Nov 2023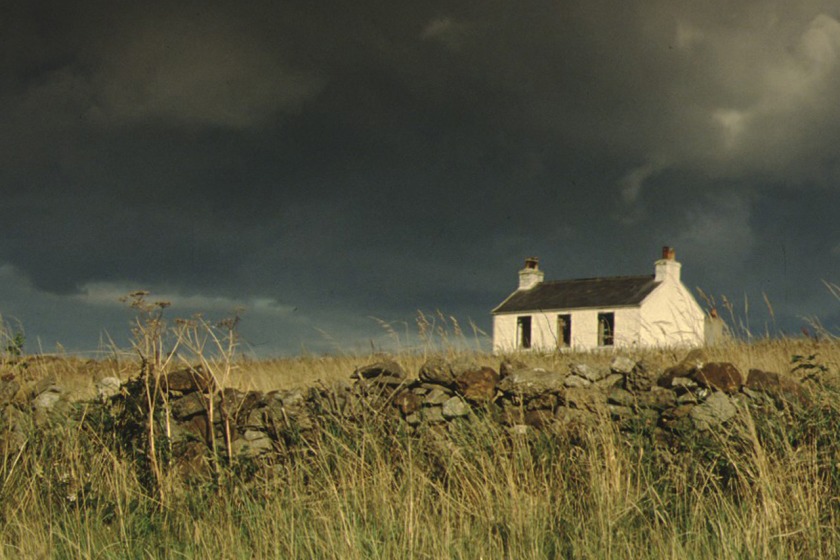 A presentation of hundreds of photographs of tholtans around the Isle of Man 60 years ago has been released online.
Recorded in 1991, the photographer and author, Mike Goldie, presents a slideshow of photographs he took all over the Isle of Man between 1965 and 1991.
This has been released online by Culture Vannin as a film entitled, 'Tholtans of the Manx Crofter.'
Many of the ruins featured in the presentation have either deteriorated beyond recognition or else have disappeared completely.
Indeed, the presentation opens with Cranstal Cottage in Bride, first photographed with the thatch still on in 1965, then with only one wall standing in the 1970s as the sea ate away at the coastline. Today nothing remains at all of Cranstal Cottage.
James Franklin, Online & Educational Resources Officer at Culture Vannin, says:
"This presentation from 31 years ago offers a unique picture of the Island's landscape which could not be repeated today. In this, it is not only beautiful and insightful, but also poignant and so important."
The presentation includes tholtans from every parish in the Isle of Man, including even those on the Calf of Man. It also features structures perhaps outside of the strict definition of a ruined building, such as the Foxdale railway line in the 1960s, or St Trinian's Chapel when a tree still grew at one of its walls.
Alongside Mike Goldie's beautiful photographs are his stories and information about the places, including captured fairies, holy wells, poltergeist and 'the Ronague Spook.'
Some of the photographs, stretching back almost 60 years, show a side of the Isle of Man not to be seen today. This includes the Groudle Glen Railway rusting in the weeds before its restoration, Injebreck Reservoir almost entirely empty in the great 1960s drought, and a traditional harvest at Balldoole.
Dr Breesha Maddrell, Director of Culture Vannin, says:
"It is wonderful that Mike Goldie had the foresight to record this aspect of the changing face of the Island's vernacular architecture, and, along with that, something of a traditional way of life. It is a privilege now to be able to pass this on for all to see and enjoy."
The full film is just over two and a half hours long, but 25 short extracts have also been prepared by Culture Vannin, so that a sample of the content is easily accessible.
Mike Goldie was born at Laurel Bank, close to St John's, in 1934. His photographs of tholtans were published in 1996 in a book co-authored with Gordon N. Kniveton, entitled, 'Tholtans of the Manx Crofter.' Perhaps as many as 100 more tholtans appear in the video now online than feature in this book.
Culture Vannin is very thankful to the Goldie family for the permission to make the film available online.
'Tholtans of the Manx Crofter' is now available on the Culture Vannin website and YouTube channel.
---