Taylor Swift's new album, with Manx links
Sat, 01 Apr 2023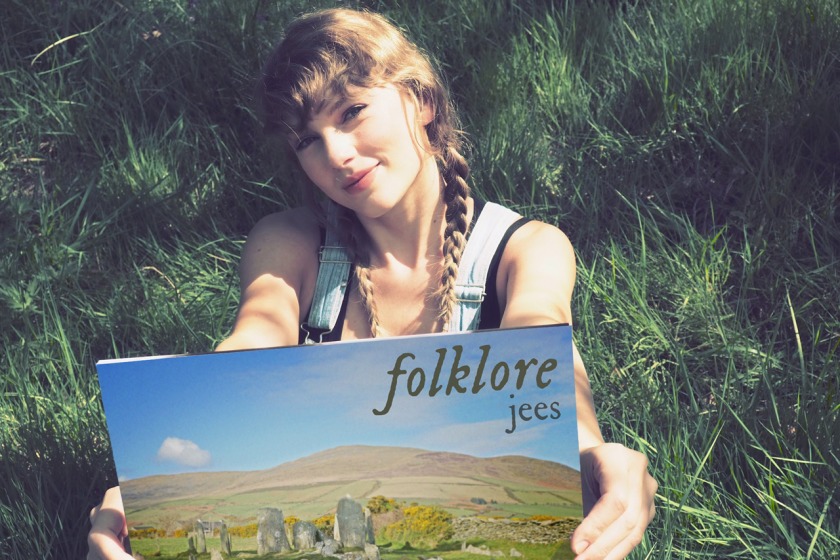 One of the biggest names in pop-music around the world, Taylor Swift, has released the first details of her new album, with Manx links.
In a surprise return to the concept of her 2020 album, Folklore, the album to be released at the end of the month is to be entitled Folklore Jees, and features a photograph many in the Isle of Man will recognise.
James Franklin of Culture Vannin says:
"We were amazed when we were contacted by Taylor's people – we thought it was a joke at first! But we soon understood that she was completely genuine in her interest in the Island."
Born and raised in Pennsylvania, USA, Swift has links to Scotland and the Isle of Man through the family of her mother, Andrea Swift, whose maiden name was Finlay. An intermittent visitor to the Island in her youth, Andrea fostered her daughter's interest in the Isle of Man from a young age.
Taylor Swift alluded to this in her infamous interview on The Tonight Show in November 2020:
"My idea of folklore is wide – I listen to songs from all over the world, but Celtic stories are my real passion. When I was growing up, I was always reading a book my mother gave me, of fairy tales from the Isle of Man. I could talk for hours about bugganes or the Little People!"
This interest has influenced the direction of her upcoming eleventh studio album, which will explore more fully the emotionally raw and stripped-back direction of her 2020 album, Folklore.
There is limited information currently available about Folklore Jees, however, the cover and the name will stand out to Manx audiences.
Ruth Keggin Gell of Culture Vannin says:
"Although Taylor deliberately chose the word, 'jees,' as it has a number of meanings in different languages, she was focused on its being the Manx word for 'two.' We enjoyed a number of Zoom conversations with her, explaining more about the language and culture of the Island, and helped her pin down the pronunciations of some Manx words."
Perhaps naturally pronounced as 'Jeez' by most North Americans, the campaign for the album with be clear that the word should be pronounced in the Manx way, as it is spelt.
The album also features a beautiful image of standing stones in an open field with hills behind. For the international audience, this will look mysterious and weighted with meaning. But, to Manx audiences, it will be immediately recognisable as Cashtal yn Ard in Maughold.
James Franklin of Culture Vannin says:
"We had conversations with Taylor's team about the Island, and put together a mood-board of the Island's 'folklore landscape,' as they described it. But we had no idea they were going to use a Manx image on the cover! We couldn't be more delighted! – It just shows how strong and distinctive an identity the Island has, that people like Taylor can pick up on it."
No audio from the album has been released yet, but the titles of five tracks are known: 'Return the Blow,' 'Time Enough,' 'Did you ever hear tell of Old Bobby Bob,' 'Christmas Rose,' and 'Traa dy Gholl dy Valley.'
With the album scheduled for release at the end of the month, there are, as yet, no details of the tour. But it is understood that, despite the Manx connection, Taylor will not be performing in the Isle of Man. However, a rumour has been going around on the internet about an unannounced Swift performance at a regular session in the Island.
Dr Chloe Woolley of Culture Vannin is vague on this:
"We shouldn't be surprised that someone as musically talented and curious as Taylor would know some Manx music. We have had conversations around the repertoire to be heard in places like the Ginger Hall on a Sunday, but it would be up to her team to make any further statement on that."
Further information about the album, and any possible appearance in the Island, will be released over the coming weeks.
Further information about Folklore Jees: taylorswift.com/folklore-jees
_____
UPDATE:
Sadly, this is an April Fool's story...
However, should anyone have a contact for Taylor, please do let her know that we think it would be a great idea and that we would be delighted to help in any way we can!
Previous April Fool's stories include a cable car over Port Erin bay (2022), the Manx edition of Milky Way (2021), the Joe Wicks Manx workout special (2020), and the Manannan Roll (2019).
---