We're on board!
Fri, 01 Apr 2022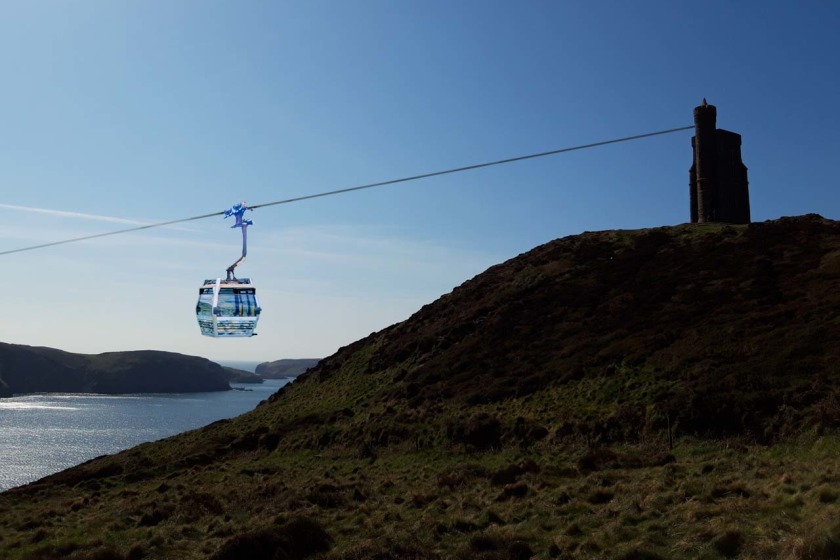 Most people will know by now about the exciting plans for Port Erin bay, and we're very excited to say that we're going to be a part of them.
As was announced recently, a cable car is to be built between Bradda Head and the far side of Port Erin bay close to the old Marine Biological Centre site. The designers are clear that it is not to be just a useful mode of transport between two popular leisure spots, but also an exciting experience you will want to come back to again and again.
We are delighted that we have been invited to work on the project to make the experience as brilliantly Manx as possible!
Dr. Patricia McGill, Director of Culture Vannin says:
"The Isle of Man has been famed historically for its bold decisions in creating attractions that have been a wonder for millions of visitors each year. We are extremely excited about this new venture which returns to this spirit."
Planning is well underway for this cable car experience, with a large number of ideas already on the table for what each trip might offer. However, the key thing will be variety, ensuring that a trip over the bay will never get boring and so that you'll be queueing up again and again for more!
We cannot reveal too much at this point, but some of the following ideas are progressing towards inclusion:
Historical audio tour delivered by Sir Charles Guard, explaining the numerous exciting stories of Port Erin's famous role in steering international history throughout the ages.
An interactive "Meet the Spook" audio experience where travellers will get the chance to communicate with Gef, the talking mongoose, as he scratches around behind the cladding of the car.
A Manx music floor, where travellers have the chance to lie down and be the bow on the digital fiddle strings, allowing you the chance to play some Manx tunes as you take in the view.
A Manx speaker's hologram, whereby fluent young speakers of Manx, taken from the growing pool of speakers from the Bunscoill Ghaelgagh, will be projected onto a seat to give a 'real-life' Manx lesson.
Other ideas under discussion revolve around reconstructing the Island's key architecture in Jenga blocks, following simple Manx dance instructions to unlock the door to get out and more.
The director of the new company, Suspended Manx, Veronica Neu Chredjallagh, says:
"It is an honour to be working with all of our partners on this amazing venture, but what Culture Vannin brings to the table is especially exciting and valuable. As this will be the 73rd longest cable car running over an eastern-facing bay in the Northern hemisphere, there is no end to the interest that this will attract, and the added benefits of plunging into Manx culture in the process cannot be over-estimated."
Construction is scheduled to begin in early August, with fully-operational completion expected to be made in Easter 2024.
We look forward to sharing more with you as the project progresses!
_____
UPDATE:
Sadly, this is an April Fool's story...
However, should anyone have plans for such a venture, we would love to help out on the Manx side of things!
Previous April Fool's stories in Facebook include the Manx edition of Milky Way (2021), the Joe Wicks Manx workout special (2020), and the Manannan Roll (2019).
---