A musical celebration of Manx women
Mon, 06 Mar 2023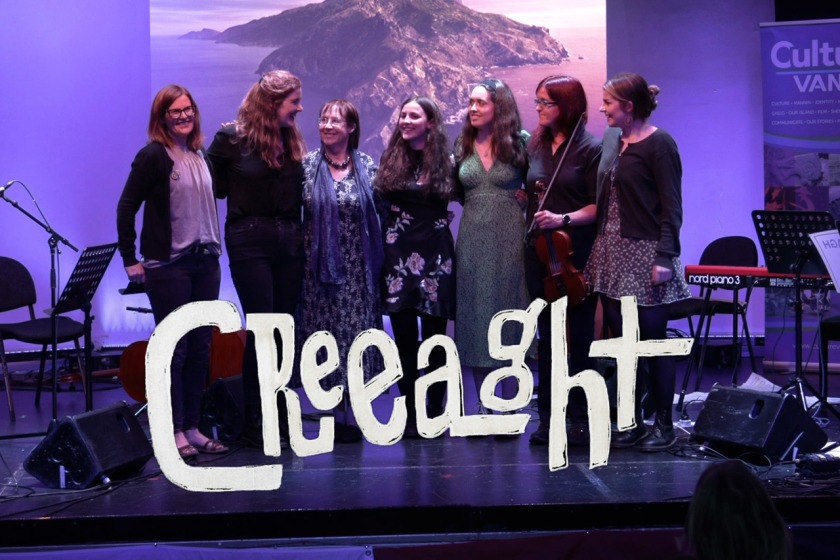 A musical celebration of courageous Manx women has just been released online.
'Creeaght' is a full-length traditional music composition by Isla Callister, which celebrates the role women have played in Manx history.
First performed at the Yn Chruinnaght Celtic Gathering in July last year, the entire performance was recorded by Culture Vannin and is now available to watch in full online.
'Creeaght' is the Manx word for 'courage,' and it is new composition commissioned by Culture Vannin for a traditional ensemble of fiddle, harp, piano, cello and voice.
The all-female performers in the recording include: Isla Callister, Mera Royle, Ruth Keggin, Annie Kissack, Katie Lawrence, Kirsty Lawrence and Anna Garvin.
The suite of 9 pieces celebrates the lives and legacies of women who have shaped the history of the Isle of Man from the late 1800s to the present day.
Cultural figurehead Sophia Morrison, minority rights campaigner Angèle Kneale and the women behind the law-changing campaign for abortion reform and Handmaids IOM are the focal point of Creeaght.
Isla Callister, composer and musician, says:
"The role women have played in Manx history has long been overlooked and hidden from view. Their remarkable stories of resilience, collaboration and courage are bound together in the story of Mann, and it is time for the stories to be shared and celebrated. Creeaght is a musical project that attempts to address this inequality."
The performance featured artwork by award-winning Manx illustrator Jo Davies, who brought the stories of these women to life through her illustrations.
The piece was commissioned by Culture Vannin as a part of their ongoing work to develop and encourage innovative and exciting projects that enable us all to engage meaningfully in our Island's history and identity.
Dr Chloe Woolley, Manx Music Development Officer at Culture Vannin, says:
"When Isla first approached us with the concept behind Creeaght, we knew it would be something very special and meaningful, given her passion for the topic and her incredible musicianship. The live performance at Yn Chruinnaght Celtic Gathering took the audience's breath away and there was hardly a dry eye in Centenary Centre. These films are just one part of the legacy of Creeaght - there are educational aspects to deliver, future performances here and abroad and hopefully an album to come yet."
The suite was first performed to a sell-out audience at Yn Chruinnaght Celtic Gathering in July 2022, forming one of the most spoken about and stand-out concerts of recent years. It is due to be performed again soon in the Island, as well as internationally.
The full video of the hour-long concert is available in its full form, as well as in its nine individual parts here:
Creeaght: A Musical celebration of Manx women
---