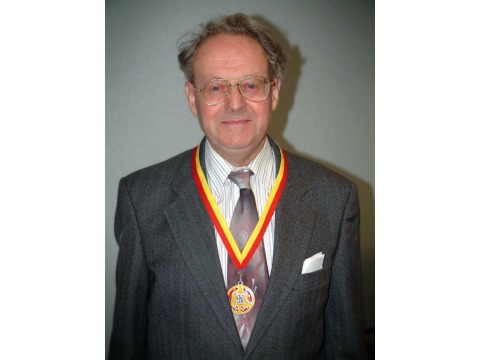 Juan Crellin
2005
Mr Juan (Johnnie) Crellin was presented the Reih Bleeaney Vanannan award for 2005 in recognition of his efforts to further knowledge of the Island's culture and language.
The award was presented to Juan by the chairman of the Manx Heritage Foundation and Castletown MHK Tony Brown.
Juan became interested in Manx culture in his youth: he would walk through fields with Manx names and ponder about the origins, development and changes within the Manx language. He joined Yn Cheshaght Ghailckagh as a result of this interest.
A former captain of the parish of Andreas, Juan has 'fenced the court' in Manx Gaelic on Tynwald Day and is eager to preserve the Island's heritage. He was involved in the acquisition of the Old School House, St Jude's, for the study of the Manx language, and, as a Trustee, Manx National Heritage's acquisition of Grove House, Ramsey, and establishing a right of way at the Kerroogarroo Fort to give the public access to the monument.
As winner of the Reih Bleeaney Vanannan, Juan was invited to name a Manx cultural cause that would receive a donation of £500 from the Foundation. He requested that the money be donated to the Northern branch of Yn Cheshaght Ghailckagh, Banglane Twoaie.
An oral history interview Juan Crellin in 2019 is available here.