Honouring the memory of Dr Brian Stowell, Manx language champion
Tue, 18 Oct 2022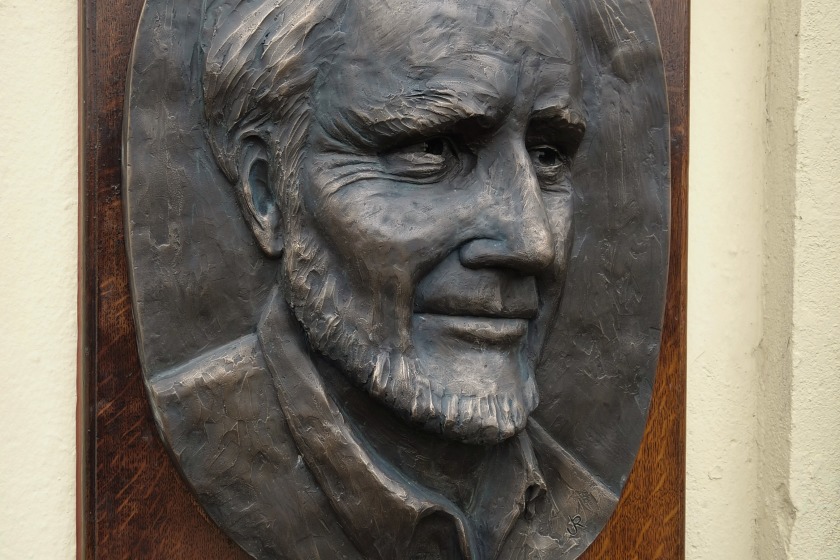 In September, a small group of family and friends of the late Dr Brian Stowell RBV, TH, gathered together to mark the unveiling of a new plaque in his honour.
The bas-relief was the inspiration of sculptor and old family friend, Jane Robbins, who donated her time and skill producing the work as a way of remembering a truly remarkable man – a father, friend, and Manninagh dooie, a true Manxman.
Brian is remembered as a wonderful Manx speaker, musician and singer, writer and broadcaster, and, of course, as the Isle of Man's first Manx Language Officer in schools. His love of the language was sparked when he was still at school, where he excelled academically. He later studied physics at university, and taught at Liverpool Polytechnic for a number of years.
Brian served as board member of the Manx Heritage Foundation, later Culture Vannin, for many years, and was one of the driving forces behind the Manx Language Society, Yn Cheshaght Ghailckagh, and the Manx branch of the Celtic Congress. His outstanding contribution to Manx culture and public life in the Isle of Man was recognised by the Reih Bleeaney Vanannan in 2008 and the Tynwald Honour in 2010.
The bas-relief can be enjoyed by all visitors to St John's and is situated on the front of the Culture Vannin building on the Main Road. Brian was known for his great sense of humour, and his from time-to-time outspoken political views, and it seems fitting that his eyes will be on Tynwald Hill for decades, if not centuries, to come.
The plaque is, in many ways, a gift to the Stowell family and the Manx nation at the same time. Jane Robbins is a figurative sculptor who grew up alongside the Stowell family on the Wirral. She has taught sculpture within schools, colleges and community settings, and regularly exhibits at fine art galleries throughout the UK. Her work includes sculptures of Emmeline Pankhurst, Linda McCartney Poet Laureate, Ted Hughes, and Sir Ken Dodd. She recently co-sculpted the Brian Epstein Statue in Liverpool, and is currently working on an exciting new commission in Wales to be unveiled next year.
Chris Williamson, Board Member for Culture Vannin, said: "Brian made an incredible contribution to Manx culture and to the Isle of Man, and in particular to the Manx language. The plaque's inscription talks about how he breathed new life into Manx – Brian was someone who made the language he loved so dearly accessible to everyone, everywhere."
Culture Vannin is celebrating its 40th anniversary throughout 2022, focussing on the ways that the organisation works with others to celebrate Manx culture and cultural heritage in the Island and throughout the world. Find out more by exploring this website.
---