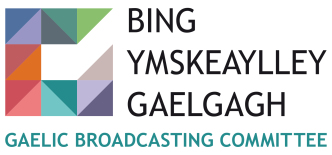 The Gaelic Broadcasting Committee works to support broadcasting in the Manx language on the radio and online, and directly sponsors Manx language news on Manx Radio.
The Gaelic Broadcasting Committee has been funded by Culture Vannin since 2016, and became a full subcommittee of Culture Vannin in late 2022.
Full list of Manx language programming on Manx Radio
Jelhein / Monday:
Traa dy Liooar ('Time Enough') between 5pm - 6pm on the AM network, produced and presented by Robert Carswell. This programme, funded by the BBC and entirely in Manx, features contemporary events and many aspects of Manx culture.
Jerdein / Thursday:
Shiaght Laa ('Seven Days') 6pm – 6.30pm on the FM network. This bilingual broadcast features a range of presenters including Bob Carswell, Fiona McArdle and Maralyn Crellin. It is produced by Bob Carswell. The programme does not run year-round: please check Manx Radio's weekly schedule for more information as to when the show is broadcast.
Jeheiney / Friday:
Kiaull as Cooish ('Music and Chat' - a programme formerly known as 'Jamys Jeheiney') from 5pm – 6pm on the AM network, produced and presented by Daniel Quayle. An hour-long programme, which is funded by the BBC and entirely in Manx. T'eh dy kinjagh feeu geaishtagh - ta ram gammanyn ayns as y lhied! This lively programme, featuring music and interactive quizzes, aims to have particular appeal for young people.
Jedoonee / Sunday:
Goll as Gaccan ('Going and Grumbling') between 4pm – 6pm on the FM network. This programme, with Simon Clarke and Phil Gawne, is mainly in English, but the weather forecast and information on pharmacists' opening times is given in Manx several times, along with items in Manx accompanied by an English translation. The main aim is to show the relevance of Manx language, history and culture to life in the present day Isle of Man. Supported by Culture Vannin and the Gaelic Broadcasting Committee.
Clare ny Gael ('The Programme of the Gaels') between 6pm – 7pm on the FM network. This bilingual programme is produced and presented by Bob Carswell, and features traditional music, Manx language and history, contemporary events and many other aspects of Manx culture. It is a great resource for learners to hear Manx and English side by side.
You can read and hear news articles in Manx via Manx Radio here. You can also find a weekly summary of Manx language programming as a podcast called 'Abbyr Shen Reesht'. This excellent resource is produced by Bob Carswell, and available to download and listen to via the Manx Radio website as well as podcast apps.
Oltenyn y ving / Members of the committee
The committee is comprised of members representing BBC Isle of Man, Culture Vannin, and Manx Radio, as well as Manx language broadcasters.