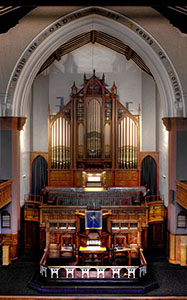 In recent times Culture Vannin has undertaken a photographic record of all the pipe organs on the Isle of Man, including those in private houses.
The Island is particularly rich in its variety and quality of instruments and as the links below show, they present a colourful array of interesting casework and painted pipes.
All the instruments are tuned and maintained to the highest standard by resident organ builder Peter Jones, and we are particularly indebted to him for supplying the information on the various instruments as we are to Peel photographer John Hall for his superb photographs of the organ cases and the various details of the instruments.
The feature on each instrument can be seen by clicking on the PDF files below and, where available, there is a link to a recording of the instrument played by Head of Music at King William's College, Gareth Moore.
Organs
Click the name of a church to view a PDF about its organ.
Organs with musical samples
Click the name of a church to view a PDF about its organ or click play on the audio element underneath to hear the organ being played.