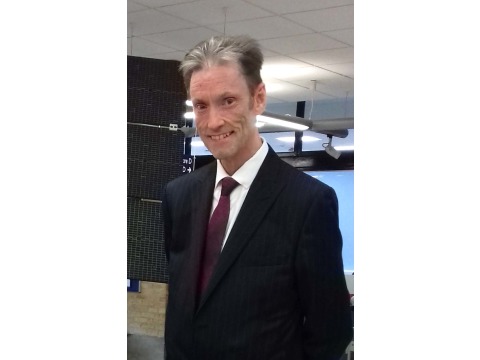 Nigel Crowe
2022
Nigel Crowe's generosity in sharing his scholarship in relation to genealogy, land records and historical landscape was recognised in the award of the Reih Bleeaney Vanannan 2022. The panel of assessors singled out his long involvement with the Isle of Man Family History Society, the Isle of Man Natural History and Antiquarian Society, and the Manx Music Festival, noting that, without his work and enthusiasm, our understanding of the Isle of Man would be all the poorer.
Nominations described Nigel as the 'quintessential Manx scholar with a prodigious insight and memory' who always showed great willingness to share information, reasoning and an understanding of his sources with enquirers around the world. They talked of his 'deep love of the land itself, from walking over it for as long as he has been able, his head packed with information on the names and histories of people and places to share with his companions.'
Nigel is a former President and long-standing committee member of the IOM Natural History & Antiquarian Society. A founder member of the IOM Family History Society, he served as the society's Chair for seven years, hosting the UK Federation AGM and conference on the Island in 1994, and is currently leading a project to transcribe the Sheading Rolls.
Brought up in the East Baldwin Valley, Nigel developed an interest in Manx history and family history in his teens, earning his living as a researcher for some time after his A levels. He created the manxroots.com website in 2004 to share research into Manx records. His professional life concentrated on the built environment, estate management, and work as a chartered surveyor, and he is a Fellow of the Royal Institution of Chartered Surveyors. He is a graduate of the University of Reading with a BSc (Hons) in Land Management, and was a professional valuer and then Director with a leading and long-established firm of Chartered Surveyors and Estate Agents for almost 25 years.
As his research interests moved beyond Manx genealogy, Nigel made a detailed study of the development of most of the Island's towns, the evolution of roads, field-boundaries, and landscape history in general. Nigel understands how intimately people and the landscape - urban or rural - are connected, how that landscape has shaped us, and how we have shaped the landscape over centuries. He unstintingly shares that knowledge through excursions and lectures, particularly with the Isle of Man Natural History & Antiquarian Society. His research papers, conferences, talks and book chapters number over thirty.
Nigel is also known for having a very fine voice, someone who has performed as a singer and public speaker at countless Young Farmers contests, eisteddfods, and as a 'Special Bass' in the Guild – Manx Music Festival – itself. Until recently he enjoyed singing with various local choirs. He worked to restore and catalogue the late Ian Cannell's recordings of the Guild, and was a driving force behind the Festival's 125th anniversary exhibition in 2017.
The Reih Bleeaney Vanannan or Manannan's Choice of the Year is the Isle of Man's highest cultural honour, awarded by Culture Vannin, and decided by a selection panel which is made up of representatives from Yn Cheshaght Ghailckagh, Yn Chruinnaght, Manx National Heritage, IOM Arts Council and Culture Vannin itself.
The presentation was made at a meeting of the Family History Society, and Nigel nominated the Manx Y-DNA Study as the recipient for a donation of £500 linked to the award.
Words from one of the many nominations summed his remarkable contribution up best: 'Everything Nigel does is with passion for matters Manx, and a passion to gather and spread knowledge…the Island is culturally richer for Nigel's diverse contributions.'
Selected conferences, lectures and publications:
1984: The Corletts and Ballakoig (paper to IOMNHAS: Proceedings Vol IX No. 1)
1992: "A Port and its People, Lord's Rental of Douglas 1561" and "The Governing Elite of the IOM 1580-1704" (joint with R. Dickinson). Seminar papers for University of Liverpool.
1992: Lectures and workshops at Salt Lake City for Cannon Family Association.
"Trace the History of Your House " – 10 week evening course for IOM Dept.of Education delivered in Castletown, Douglas and Ramsey over several years.
1994 "Change & Contínuity in the IOM, 1400 – 1800" Weekend Course (joint with R. Dickinson & A. Harrison) for University of Liverpool.
1994: "The Moores of Ballakilley, Marown", Presidential Lecture and paper to IOMNHAS: Proceedings Vol. X No. 2).
1994: "A Tide in the Affairs of Man" annual conference (joint organiser with Martin Faragher) for Federation of Family History Societies. At KWC.
1995(?) & 1997 Organised two day-meetings of IOMFHS at Liverpool Central Library
1998: "A New Atlas and Gazetteer - an Appreciation of James Woods's Atlas and its Origins" for IOMNHAS: Proceedings, Vol. X No. 4)
2000: Joint editor (with Priscilla Lewthwaite) of revised version of The Manx Family Tree (book)
2001: Survey of Douglas Vol 1 – Douglas land records c. 1705 (book)
2001 Notes on Land Tenure sources: Composition Books. Paper posted on
manxnotebook.com
2004: "A History of Chrystals" by late Mrs C K Radcliffe extended to date, and illustrated by NGC. Copy in MNH Library April 2006.
2007: Applying Historic Plan Analysis to Douglas. Seminar paper for Urban Morphology Research Group. University of Birmingham.
2007: Dateable Manx House of the 18th century (with late Ann Harrison) (paper)
2008: Manx Houses of the seventeenth century: a hidden heritage? Proceedings of the IOMNHAS
2008: Milntown (with Charles Guard) (excursion/talk)
2009 – 2011: Applying Historic Landscape Analysis to IOM. Three Papers for annual Manx Archaeology Day Schools.
2010: Studies in the Morphology of the Manx Landscape, The Antiquarian
2010: Lower Douglas - Evidence for the pre-Urban Origins of the Town (excursion/talk)
2010: Observations regarding Treens as Features of the Landscape (article)
2011: The Cinquecentenary of "the Manx Domesday Book" 1511-2011, The Antiquarian
2011: An Introduction to Sub-Tenancy in the Isle of Man c.1500-1800, The Antiquarian (paper)
2011: Applying the Evidence from Datable Urban Buildings to Undocumented Manx Farmhouses. Illustrated paper given at joint conference New Light on Vernacular Architecture Studies
2014: Development of Milntown. Conference note & conducted tour for the Annual Conference of the Society of Architectural Historians of Great Britain.
2015: 'Cometh the hour, cometh the man?' – the Institution of the Cleveland Medal at the Manx Music Festival (talk/paper)
2015: 'To break and lay open convenient highroads...lawful and commodious for the public' (paper for IOMNHAS Revestment Symposium).
2016: Towards the Origins of the Manx Landscape (paper)
2016: Notes on Land Tenure sources: Woods's Atlas (article)
2017: Manx Music Festival 125 year exhibition- "Do You Remember that Time at the Guild?" Acted as Chair of joint research/organising committee.
2019: Talks at IOMPRO on scope of records for property history. For Friends of MNH.
2019 Beyond Broadway: The Creation of the new Castle Móna Estate and the Impact of the 4th Duke of Athol's Activities on the Douglas Seafront. Illustrated talk for IOMFHS. Summary by Sarah Christian
available
.
2019: The Roots of a Landscape (chapter in Living with the Sea, Rushen Heritage Trust book)
2020 : Talk - The origins and early development of Castletown, for Castletown Heritage.
2020: Tops above Abbeylands and East Baldwin (excursion/talk/article)
2021: The Duke's New House: Evolving design of Castle Mona for IOM Victorian Society
2021: West of West Baldwin (excursion/talk)
In Press: "Landscape & Environment" - Co-authored chapter in New History of IOM – Vol. IV - for Liverpool University Press. (Joint with P. Davey, A.Johnson & P.Tutt, edited C. Mackie).
Forthcoming: Origins of the Manx Landscape (book)