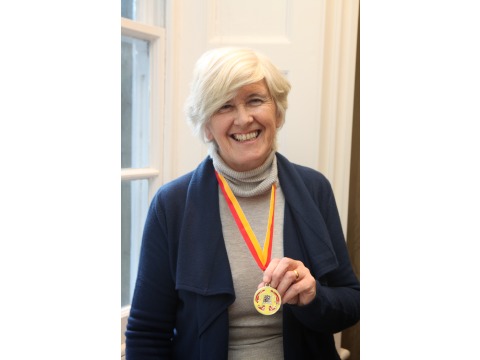 Dr Fenella Crowe Bazin
2011
The Reih Bleeaney Vanannan for 2011 was presented to Dr Fenella Bazin in a ceremony at the International Business School. Fenella was a member of Culture Vannin for many years, and contributed a huge amount to its success. She is, however, perhaps best known for her work within music, and further education.
Fenella has pioneered academic research into Manx music as Director of Postgraduate Studies at the Centre for Manx Studies. Her own doctoral thesis on Manx music up to 1896 opened up areas of research for other students and helped to put Manx music on the map. Without her work, we would know little about the development of traditional music, West Gallery music, or even the National Anthem. Fenella's expertise in the sphere of Manx music is internationally recognised; she has contributed articles, papers and chapters to leading publications, spoken at numerous conferences and led workshops. Her research has consistently promoted the Isle of Man and its culture.
Fenella's accomplishments outside of academia are wide-ranging; she has succeeded in making Manx music accessible to a wide range of people of all ages and has worked hard for festivals such as the Manx Music Festival and Yn Chruinnaght. She is also well known as an excellent musician – fiddle player, singer and pianist – as well as an arranger and composer.
Her many publications include: Ree ny Marrey, Much Inclin'd to Music, Manx Hymn Book, Mona Douglas – A Tribute, The Promised Land, Wild Irishman, and John Moore's Music Book.
Fenella works hard for her local community of Ballaugh; she leads the church choir, is a member of Ballaugh Heritage Trust and has acted as a governor for Ballaugh School.