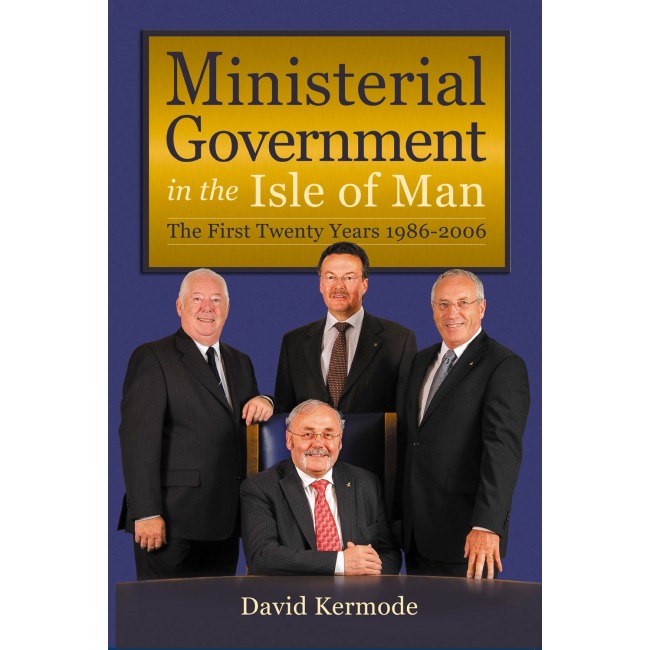 Ministerial Government in the Isle of Man – The First Twenty Years by Professor David Kermode.
£5.00
Click here to email us about availability of this item.
Ministerial Government in the Isle of Man is the first in-depth study of Manx politics and government to be published since the inception of the ministerial system in 1986/88. It will appeal to those with a specific interest in the history and politics of the Isle of Man or a more wide-ranging interest in the politics of small states. It is well illustrated with some 150 photographs providing an excellent record of the period's leading political personalities.
The book can be divided into four parts. The first three chapters are scene setting, focussing on the economic environment of ministerial government, its historical origins and the constitutional checks and balances that both empower and constrain ministers. The second part is devoted to an analysis of political recruitment to the legislature and government, a process dominated by political Independents and an absence of mainstream political parties. Six chapters, the main part of the book, examine aspects of policy making over a twenty year period, the uncertain relationship between elections and policy, the residual powers of the UK both in domestic and foreign affairs, the relationship between government and Tynwald in domestic policy making and the freedom to flourish enjoyed by the Island following the transfer of financial power from the UK to the Isle of Man in 1958. The final chapter offers an assessment of the ministerial system and anticipates its further evolution in the aftermath of the elections in November 2006 and the appointment of Tony Brown as the Island's fourth chief minister.
The author, David Kermode was born in Kirk Michael in the Isle of Man in 1942. In 1969 he was awarded a PhD by Sheffield University for a study of the constitutional relationship between the Island and the United Kingdom. He is the author of Devolution at Work: A Case Study of the Isle of Man (Saxon House, Farnborough, 1979), Offshore Island Politics: The Constitutional and Political Development of the Isle of Man in the Twentieth Century (Liverpool University Press, 2001), several journal articles and conference papers on Manx politics and 'Constitutional Development and Public Policy 1900-79' in John Belchem (ed.), A New History of the Isle of Man: The Modern Period 1830-1999 (Liverpool University Press, 2000). He is currently Emeritus Professor in Political Studies at Liverpool John Moores University.