Women in Farming book published
Mon, 08 Aug 2022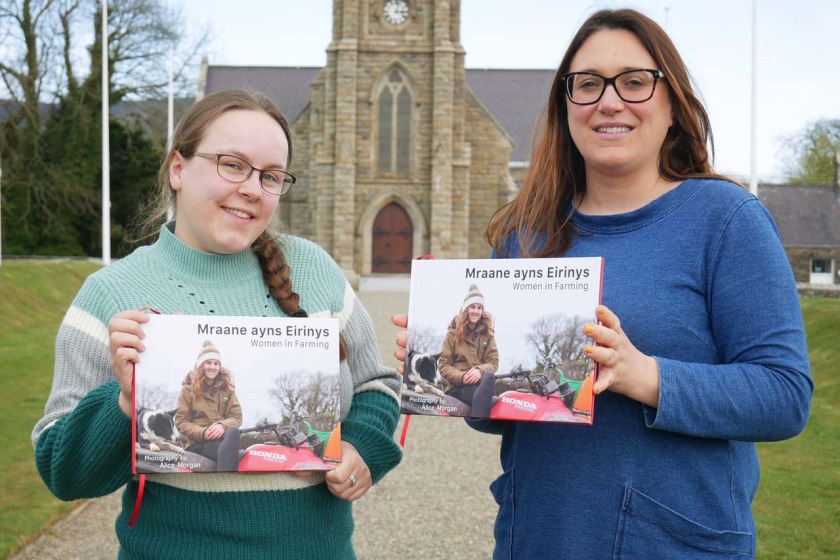 A photobook focusing on Women in Farming in the Isle of Man has been released by Alice Morgan.
The project was created and developed by the UCM Visual Communications degree student who applied to the Culture Vannin 40th Anniversary grants fund for financial support to bring her project to life.
Mraane ayns Eirinys, which is Manx Gaelic for Women in Farming, is a 32-page book, with in-depth featuring writing taken from interviews and portrait photography of a selection of women involved in farming on the Isle of Man.
Alice Morgan said:
"I wanted to create something to shed light on the people who often go forgotten in the modern day on the Isle of Man. Coming from a city to the island 5 years ago left me longing to educate myself on farming and the people involved."
Copies of the hardback book, which retails at £25, are available to order from the Manx National Farmers Union stand at the Royal Agricultural Show, on Friday 12th and Saturday 13th August 2022. An online flipbook version can be viewed here: Mraane ayn Eirinys
Culture Vannin's 40th Anniversary grants scheme awarded £40,000 earlier this year to nine applicants with the aim of supporting bigger ideas, especially those that embrace innovation and change. A key requirement of the special grants fund was that applicants deliver a project, ideally at least beginning in 2022, relating to the Isle of Man and its people. The project had to fit within at least one of the areas in the remit of the cultural charity, as laid down in the Manx Heritage Foundation Act: archaeology; history and law; industrial development; language and literature; architecture; music, folklore and folk dance; arts and crafts; and natural history and ecology. This fund was offered in addition to the charity's regular grants scheme.
Dr Breesha Maddrell, Director of Culture Vannin said:
"Board Members felt that this project was innovative in its plans to explore a much-overlooked subject. Alice was able to access interviewees through established links with the Manx National Farmers Union and we are delighted with the outcome."
---