Winners at the Fortnum & Mason Awards
Wed, 17 May 2023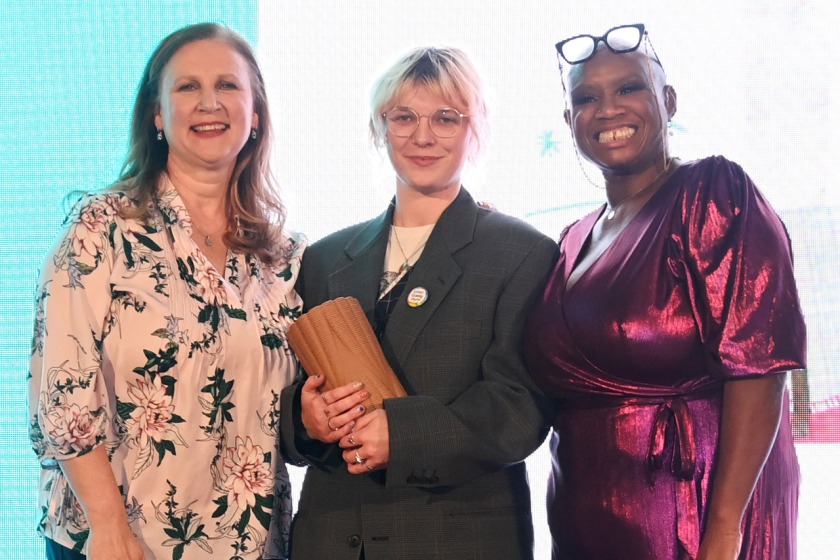 Blasstal, a podcast series supported by Culture Vannin about food and folklore on the Isle of Man, has won a prestigious food and drink prize at the 2023 Fortnum & Mason Awards.
Fortnum & Mason is a historic food emporium founded in London in 1707. They run the annual Food and Drink awards aiming to champion the achievements of writers, broadcasters and other people whose work explores stories related to food and drink. A panel of expert judges make the final decisions, chaired by Angela Hartnett OBE. At a glitzy evening party hosted at London's Royal Exchange earlier this month, Great British Menu's Andi Oliver doled out prizes to winners such as Stanley Tucci and the Hairy Bikers, alongside Blasstal for 'Podcast of the Year'.
Blasstal is a three part series produced and hosted by audio producers Lucy Dearlove and Katie Callin. Katie is Manx, growing up in St John's where her family still lives, and going to QEII before moving away for university. Lucy is from North East England, and the pair met in London where they both now live and work as audio producers. They first worked together on an audio documentary about the World Bonnag Championships in 2020, published as an episode of the food podcast Lecker, created by Lucy in 2016. That first Manx episode of Lecker featured Katie's mum Vanessa, who has been the bonnag World Champion several times before. In 2021 they successfully applied for a Culture Vannin grant to further explore the stories of Manx foods and related folklore and the finished series was released in November 2022.
The series tells the story of three foods deeply connected to the Isle of Man: moots, herring and Loaghtan sheep. Recordings were made on location at the annual Hop Tu Naa celebrations at Cregneash and elsewhere on the island, and other interviewees in the series include Fiona Gell, author of Spring Tides, Kumar Menon of Leela's Kitchen, textile artist Rosie Wood, Nicky Beavis of the House of Manannan and Jenny Shepherd of Manx Loaghtan. Folklore expert and Manx bard Annie Kissack appears in every episode, explaining some of the history and context behind Manx folk tales, as well as sharing some of her poems. Award-winning Manx harpist Mera Royle composed the theme music for the series, and Isle of Man based illustrator Vicky Webb aka Crumpets and Crabsticks produced the series and episode artwork.
Katie says:
"This series was a love letter to the food and folklore of the Isle of Man, and couldn't have been made without my family and friends at home! That's why it was so special that mum and dad could come down to London for the awards and were able to share in the excitement with me. I'm so proud and grateful to be able to share this little slice of the magic of home with the world. Gura mie mooar eu as Mannin aboo!"
Lucy says:
"Telling the unexpected stories behind the food we eat and cook has been at the heart of my work since starting Lecker and I'm so proud of these episodes. I've been so privileged to learn more about the Isle of Man's fascinating and rich food history while making this series and I'm so honoured that Fortnum & Mason recognised our hard work in this way."
Since its release the series has thousands of listens and hopefully this award will mean it can reach an even wider audience both in the British and Irish Isles and further afield.
Listen to Blasstal on the Lecker site here: https://www.leckerpodcast.com/episodes/blasstal
More about the project is here: Blasstal: A podcast series about Manx food & folklore
More about Culture Vannin grant opportunities is here: Culture Vannin Grants
---