Primary pupils explore Manx culture
Thu, 30 Jun 2022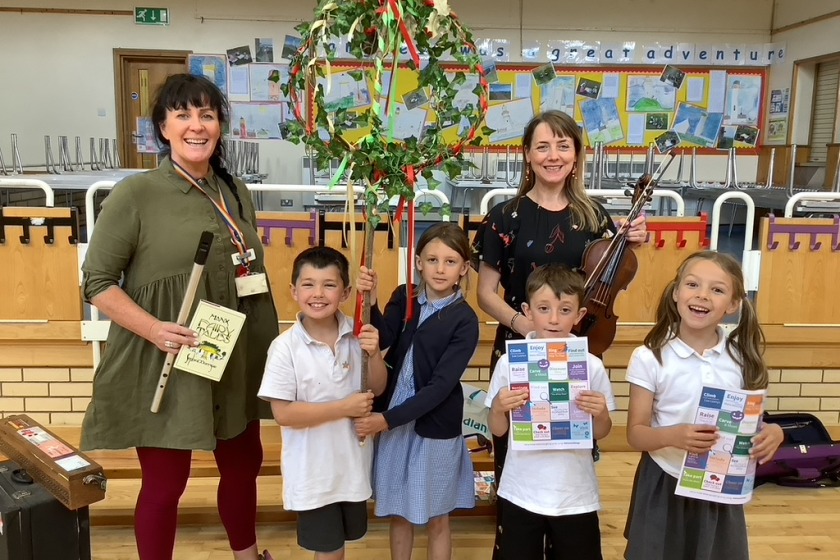 It's been a busy time in the island's primary schools, as many have explored and celebrated the Isle of Man's UNESCO Biosphere status with a special week of activities.
Pupils from Sulby and St Mary's primary schools took part in workshops, delivered by Dr Chloe Woolley of Culture Vannin and Jo Callister of Department of Education, Sport and Culture, undertaking selected activities from Culture Vannin's #40manxthings challenge.
Dr Chloe Woolley, Manx Music development officer said,
"Our intangible cultural heritage is an important part of why we were chosen to be a Biosphere reserve. The workshops were a fun way for the children to prepare for Tynwald Day by learning some Manx phrases and a folk dance; listening to some Manx music and an old fairy tale, and having a go at singing in Manx. The children completed nine of the #40manxthings challenges in just one workshop. We hope that they now have the tools and the confidence to complete some more of the challenges within their school or at home."
Launched earlier this year as part of Culture Vannin's 40th anniversary celebrations, #40manxthings presents an opportunity to get involved, try something new, and have some fun with Manx culture.
With 40 activities to pick from, featuring everything from spotting Manx place names through to visiting a glen you've never been to before, you can choose if you just try one or two, or get stuck into completing the whole set. Whatever you do, you're sure to have a great time! You can let Culture Vannin and the wider Manx community know how you get on by sharing a photo or story using the hashtag #40manxthings
Jo Callister, Advisory Teacher for the Manx Curriculum & Climate Change said,
"The week was chosen as it falls before the Isle of Man's national week and as such schools have not only be learning about sustainability and environmental issues, they were also focusing on our local traditions and Manx language and culture through a host of special lessons, speakers, trips out, crafts and creativity."
---