Let's celebrate Manx with the Cooish festival!
Thu, 26 Oct 2023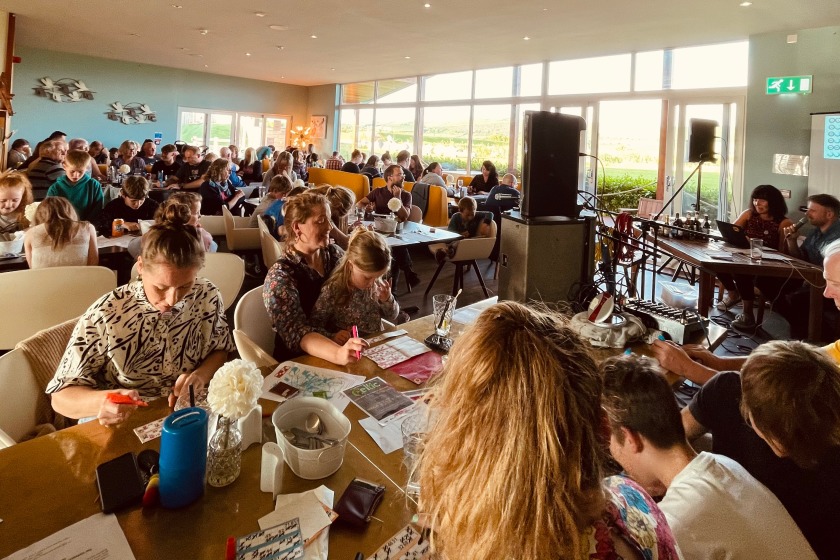 Let's celebrate Manx Gaelic! The Cooish Manx language festival will be taking place next week, between Wednesday 1st – Sunday 5th November, and whether you're brand new to the language, or a seasoned Manx speaker, there'll be something for you!
The Cooish is a fun and friendly festival which takes place annually, and is organised by the community for the community. This year's festival features more than 20 events across the island, from a family-friendly bingo night, through to cocktail making in Manx!
Absolute beginners can enjoy a range of events, from open classes and workshops, through to song and music nights, and there are events pitched at confident speakers too. There are also events for little ones, with an easy Manx songs and rhymes sessions for parents and tots, run by Mini Musicians by Mannin Music.
On Saturday 4th November between 10am – 3pm there will be an outreach event in Castletown, called 'Cooish, Cappan as Croo' ("COO-sh, CAV-an az CROO"), taking place at the Civic Hall, Art Squared, and The George.
One of the meanings of 'cooish' is a cosy chat, 'cappan' is the word for 'cup' – indicating that there'll be tea and coffee aplenty! – and 'croo' means 'to create' in Manx.
The event will host a multitude of workshops, from free Manx Christmas song workshops led by Ruth Keggin Gell (Culture Vannin), through to art and craft workshops featuring the use of Manx Gaelic words, hosted by Eve Adams and Bryony Clarkson at Art Squared. There will be mini-golf using easy Manx, and live music from the likes of Ruby Biscoe-Taylor and Manx community choir Un Choraa. As well as this, there will be stalls with Manx language crafts, books and language organisations to give everyone the opportunity to find out more about Manx!
Alongside social events, there are lots of opportunities for learning, and those interested in the academic background of Manx can also enjoy a lecture in English about Manx, and an open-panel discussion exploring the future of Manx research.
Whatever your age, and whatever your level of Manx, we would love to see you! You can find the full festival programme online here or keep an eye out for one of the printed programmes in locations around the Island.
---