Film celebrating Peel Engineering & the P50
Mon, 02 Oct 2023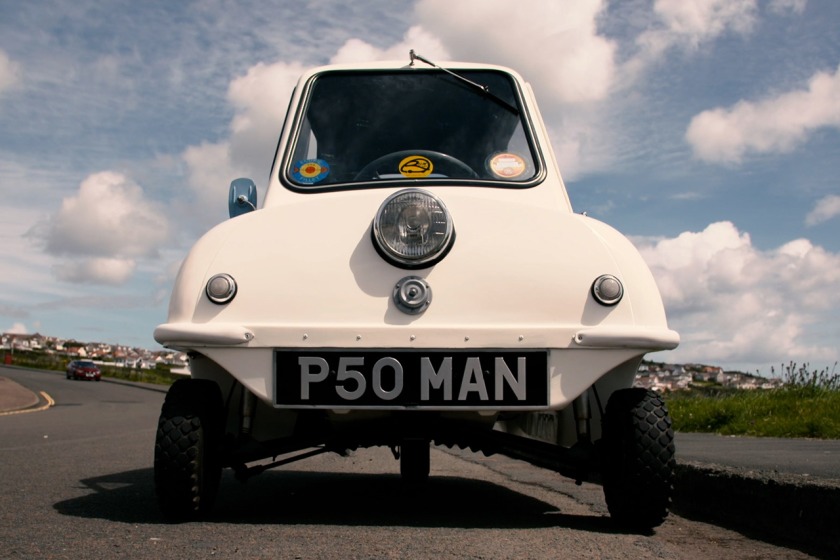 A short documentary film has been released celebrating Peel Engineering, a company known throughout the world for having created the smallest production car ever made.
The company, which was based by Peel harbour in the 1960s, produced the famous Peel P50 car, a remarkable three-wheel microcar.
Peel Engineering was founded by Cyril Cannell in the late 1940s and was quick to see the opportunities of fibreglass, adapting it to boat building and then to motorcycle fairings, which were especially important in the TT races. Never one to stop generating new ideas, Cannell then moved on to fibreglass cars, which included the P50, and even a hovercraft.
This new film from Culture Vannin features archive footage of the cars being produced and driven around Peel, with a trip to the Castle, up Peel Hill, and one being lifted into a parking space along the promenade. This is accompanied by close-up tours around three Peel cars today. The Peel Trident, the two-seater partner to the P50 bubble car; the beautiful Peel Viking Sport, which was a remarkable initiative to offer a sporty fibreglass body to fit on a Mini car; and the legendary Peel P50, a three-wheeled microcar so small that instead of having a reverse gear, it had a handle at the back to lift the car and turn it around by hand!
The interviews with those involved in the firm 60 years ago are truly wonderful.
George Gelling speaks about his role as workshop foreman, working closely with the founder and inventor, Cyril Cannell. Ernie Leece recalls his role as welder and fitter, who had the task of converting ideas into reality, and overcoming design problems. And Celia Joughin and Edith Cutsforth speak about their roles as glass fibre specialists; something central to everything that Peel Engineering produced at that time.
Filmed at Peel harbourside, outside the workshops and showroom of Peel Engineering, these interviews offer a fascinating personal connection to an important part of motor history, and Manx history.
James Franklin, Online & Educational Resources Officer at Culture Vannin, says:
"Many Manx people won't realise how important these cars created in Peel are for people all over the world. We hope that this film will be a way for many to get a better understanding of this and the immense creativity and innovation involved."
In addition to the main film, there are also six other films, three of which focus on the cars – P50, Trident and Viking – and three are the full-length interviews. All are available on the Culture Vannin website and YouTube.
'Peel Engineering: From bubble cars to hovercraft' on the Culture Vannin website
Peel Engineering playlist of videos on YouTube
---