Can you complete the 40 Manx things challenge?
Fri, 15 Apr 2022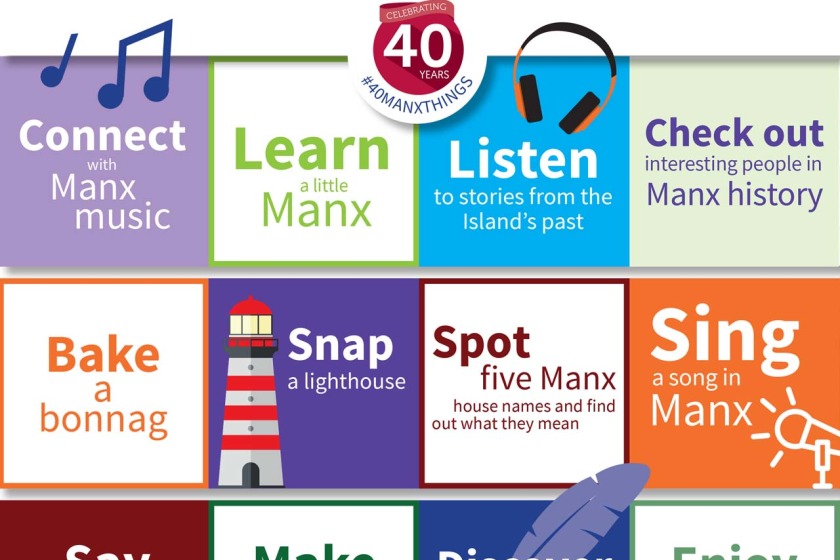 This was one article in a series by Breesha Maddrell, Director of Culture Vannin, looking at the journey of Manx culture and its importance to our sense of identity and belonging. It was first published in the Manx Independent:
40 Manx things – surely there are more?! Of course there are! But when we were thinking of ways to help celebrate the 40th anniversary of Culture Vannin, we naturally looked at how best to put the number 40 to work – giving out 40k in extra grants, sharing 40 films from our archives, capturing 40 voices talking about 40 years ago…and then we hit on our #40Manxthings challenge. We set to work, dreaming up 40 things that you might like to try – from learning Manx phrases like 'gura mie ayd' (thank you) to reading some fairy tales, visiting one of the Island's beautiful nature reserves, or a glen or beach that you haven't spent time on. Could you take part in traditions linked to the Manx calendar, or simply spot things your walk to school or work? The idea is to make it fun and accessible, but also a challenge – will you be able to complete all 40?
We've already asked some people you might know to take up the challenges on social media, too, and post when they complete each one – watch out for the tag #40manxthings and see if you can beat them to it!
These 40 Manx things all relate to what we do at Culture Vannin, relating to the living culture of the Isle of Man. We work to support, promote and facilitate all of the wonderful people here and around the world who are involved with Manx culture in its widest interpretation – and that includes you. Our intangible cultural heritage includes traditions handed down over the centuries, performing arts, festivals and calendar customs, knowledge of the environment around us, traditional crafts, and anything else handed down by word of mouth. It's also, quite crucially, about what we do today. How we understand ourselves is a key way of finding a voice in an increasingly globalised world. If we understand where we have come from, we have more chance of understanding and respecting other cultures around the world.
We're looking forward to hearing about you getting involved – wearing bollan bane at Tynwald Day, paying rent to Manannan at the top of South Barrule, or carving a moot (turnip) for Hop tu Naa. All of the activities will be free and accessible, and there will be links to help you complete them. There should be something for everyone – maybe you could take on the challenge as a family, or as a group of friends, or maybe the #40manxthings challenge will bring out the competitive spirit in you. Head to www.culturevannin.im for full details – Easter is the starting point, and we'll be posting regularly about it on our social media channels.
Culture Vannin is proud to support, promote and celebrate contemporary Manx culture, drawing on our cultural heritage to help shape an exciting future. 2022 will be an extra-special celebration of Manx culture and all those who create, practise and enjoy it, and who have done so for decades.
More information about the Culture Vannin 40 anniversary celebrations can be found here: Culture Vannin 40
---