A cammag film first
Thu, 28 Jan 2021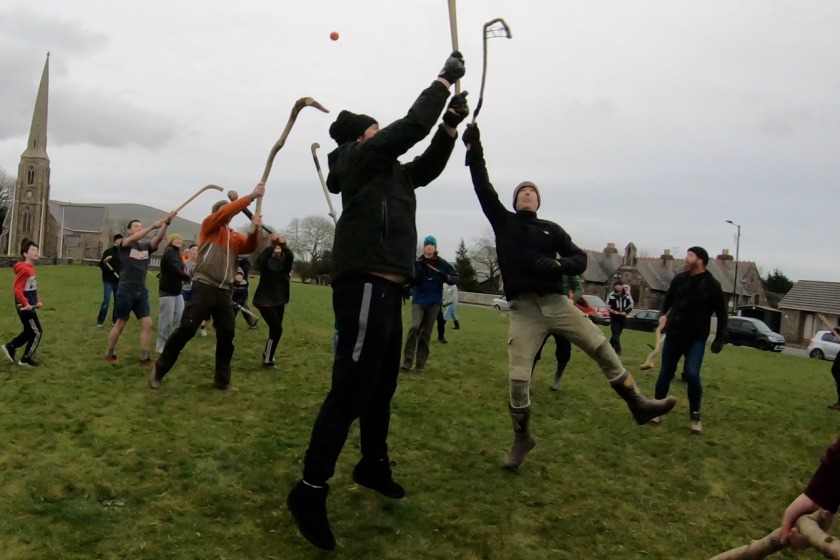 A new film from this year's cammag match is an exciting first for the Isle of Man's traditional national sport.
Although films of the hockey-like sport have been available online for years, they have never been in the heart of the action like the film just released by Culture Vannin.
Created using a GoPro camera strapped to a player's chest, the film offers a unique and exciting player's view of the game unlike anything seen before.
Produced by Culture Vannin, the camera was worn by Dave Watt, who proved to be an excellent choice, as he was in the centre of the action throughout and even scored all two of the goals for the south team.
James Franklin of Culture Vannin says:
"Dave did a brilliant job with it – following the action almost leaves you as breathless and exhilarated as the real thing! We wanted to give an idea of what it is like to play the game, and this has certainly achieved that. It is something which we hope will gather even more interest for the tradition come next December."
Before football arrived in the Isle of Man just over 100 years ago, cammag was the national sport of the Isle of Man. A game similar to hurling, shinty or hockey, it was traditionally played with sticks found or manufactured from the hedgerows. It was played in any convenient place, including the beach at Ramsey, the streets of Peel, or the sports fields of schools all over the Island.
Today the great North versus South game is played each year at 2pm on St. Stephen's Day, 26 December, on the Tynwald Fairfield. It has been becoming increasingly popular over recent years but, with famously few rules, the game might be intimidating for many. It is hoped that this film will help the continued popularity of the sport.
James Franklin says:
"It is things like cammag which help us not only get a bit of exercise and have some fun, but also to feel that little bit more connected to this beautiful Island of ours. It is things like cammag which make the Isle of Man so special, and it is important to enjoy that wherever possible."
The film of this year's 4-2 victory for the north is accompanied perfectly by music by Mec Lir. The four-piece band including Manx musicians Tom Callister, David Kilgallon and Adam Rhodes, recently topped the World music chart on iTunes with their album 'Livewire.'
The film, 'Cammag: A Player's View,' is available on the Culture Vannin website and YouTube pages.
---